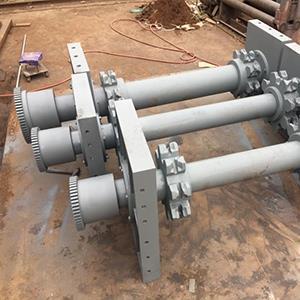 Head Wheel Group
Product Details
SprocketHead Wheel GroupIt is suitable for scraper conveyor used in coal mine and scraper reprint machine for Groove.
The head wheel is assembled on the nose frame and the tail frame of the transmission part of the nose, which is mainly composed of the end cover, the bearing seat, the sprocket body, the shaft, the floating seal ring assembly, the rolling bearing and the drum, etc. The head Wheel Group is a seven-tooth sprocket forged by alloy steel, which is processed and formed by processing equipment and quenched with tooth surface. Head Wheel Group operation6 months later, turn around.180° After installation so that the two sides of the sprocket teeth are evenly worn.
Main process parameters of the head wheel Group:
Total length875mm, supporting the use of22X86Specifications ofCGrade heat treatment chain, the spacing of the chain is120mm, the sprocket body is7Teeth.
The head wheel group according to the use position can be divided into: nose sprocket shaft Group, tail sprocket shaft group.
The head wheel group according to the applicable model can be divided into:630,730、764、800、830、900、1000、1200、1250、1400and other models.
Head Wheel GroupProductsGet the praise of customers.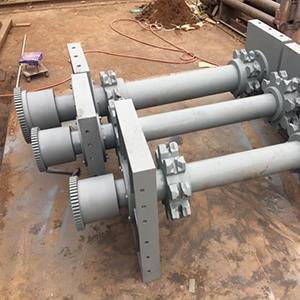 Inquiry